Band: ELLEFSON
Album: No Cover
VÖ: 20.11.2020
Label: earMusic/Edel
Ellefson, die Band des Megadeth-Gründungsmitglieds und Bassisten sowie Grammygewinners David Ellefson, gibt ihr Signing bei earMUSIC bekannt. earMUSIC veröffentlicht ihr Coveralbum "No Cover" in Zusammenarbeit mit Combat Records am 20. November europaweit.
Als ersten Vorgeschmack erscheint heute die Neuinterpretation des Klassikers "Auf Wiedersehen" von Cheap Trick. Mitgewirkt haben neben Bassist David Ellefson, Sänger Thom Hazaert und Gitarrist Andy Martongelli, die Feature-Gäste Al Jourgensen (Ministry), Charlie Benante (Anthrax) und Brandon Yeagley (Crobot).
Der Single-Release von "Auf Wiedersehen" wird begleitet von einem offiziellen Musikvideo.  Das Video ist hier zu sehen.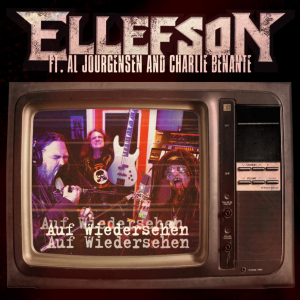 "No Cover" wurde produziert von David Ellefson und Thom Hazaert, mit Gitarrist Andy Martongelli und Matt LaPlant (Nonpoint, Skindred, Lil' Jon) als Co-Produzenten. Gemixt wurde das Album von Alessio Garavello und gemastert von Maor Appelbaum (Faith No More). Auf dem Album finden sich 19 Klassiker, die im Ellefson-Stil neu interpretiert wurden. Mit dabei sind Songs von Motörhead, WASP, Def Leppard, Cheap Trick, Queen, Judas Priest, Twisted Sister, Fastway, Fight, den Dead Kennedys und vielen mehr. Das Artwork ist eine Hommage an das legendäre Debüt-Album "On Through The Night" von Def Leppard und stammt von Melody Myers (Ellefson, Altitudes and Attitude, Escape The Fate). "No Cover" wird der zweite Release unter dem Namen Ellefson sein, nachdem die Band im Jahr 2019 bereits die Doppel-CD "Sleeping Giants" veröffentlicht hat. Die Compilation enthält neben neuen Tracks auch bis dato unveröffentlichtes Solo-Material von Ellefson und F5.
Ellefson besteht aus David Ellefson am Bass, Thom Hazaert am Gesang, den Gitarristen Andy Martongelli und Ron "Bumblefoot" Thal (Sons of Apollo, Yes, Ex-Guns N' Roses), sowie Paolo Caridi am Schlagzeug. Auf ihrem Album heißt die Band zahlreiche namhafte Gäste willkommen. Legendäre Musiker und Musikerinnen wie Charlie Benante (Anthrax), Eddie Ojeda (Twisted Sister), Brandon Yeagley (Crobot), Dirk Verbeuren (Megadeth), Frank Hannon und Troy Lucketta (Tesla), Mark Slaughter, Jason McMaster (Dangerous Toys, Ex-Watchtower, Evil United), Greg Handevidt (Kublai Khan, Ex-Megadeth), Chuck Behler (Ex-Megadeth), Gus G, John Aquilino (Icon), Doro Pesch, Dave McClain (Sacred Reich, Ex-Machine Head), Dave Alvin (White Trash), Todd Kerns (Slash & The Conspirators), Andrew Freeman (Last In Line), Jacob Bunton (Mick Mars), Al Jourgensen (Ministry), Russ Parrish (Fight), Dead By Wednesday und mehr sind auf "No Cover" zugegen.
ELLEFSON – NO COVER – 20. November 2020
Tracklist
CD1
1. Freewheel Burning (Judas Priest) ft. Jason McMaster, Gus G, Andy James, Dave McCLain
2. Tear It Loose (Twisted Sister) ft. Eddie Ojeda, Dave McClain
3. Love Me Like A Reptile (Motorhead) ft. Doro Pesch, Greg Handevidt, Chuck Behler
4. Holiday in Cambodia (Dead Kennedys) ft. Charlie Benante, Bumblefoot
5. Rebel Yell (Billy Idol) ft. Paolo Caridi
6. Wasted (Def Leppard) ft. Frank Hannon, Jacob Bunton, Dave McClain
7. Riff Raff (AC/DC) ft. Jason McMaster (Lead Vocals), Dave Lombardo, Bumblefoot
8. Nailed To The Gun (Fight) ft. Andrew Freeman, Russ Parrish, Jimmy DeGrasso
9. Not Fragile (Bachman-Turner Overdrive) ft. John Aquilino, Paolo Caridi, Bumblefoot
10. Auf Wiedersehen (Cheap Trick) ft. Al Jourgensen, Brandon Yeagley, Charlie Benante
CD2
11. LOVE Machine (W.A.S.P.) ft. Dirk Verbeuren, Dave Alvin, Bumblefoot
12. Love Hurts (Nazareth) ft. Brandon Yeagley, Chuck Behler, Tyson Leslie
13. Eat The Rich (Krokus) ft. Jason McMaster, Dave Sharpe and Opus of Dead By Wednesday
14. Sheer Heart Attack (Queen) ft. Bumblefoot, Doro Pesch, Charlie Benante
15. Over The Mountain (Ozzy Osbourne) ft. Andrew Freeman (Lead Vocals), Bumblefoot, Jimmy DeGrasso
16. Sweet FA (Sweet) ft. Todd Kerns (Lead Vocals), Bumblefoot, Shani Kimelman
17. Beth (KISS) ft. Tyson Leslie, Bumblefoot
18. Say What You Will (Fastway) ft. Mark Slaughter, Troy Lucketta
19. Downed (feat. Chip Z'Nuff, Drew Frontier & Mike Heller