CHRIS JAGGER – "All The Best" VÖ: 20.10.2017
Band: CHRIS JAGGER
Album: All The Best
VÖ: 20.10.2017
Label: BMG
Am 20. Oktober 2017 erscheint Chris Jaggers Retrospektive "All The Best" als CD/DVD bei BMG. Eine Zusammenstellung von sechzehn Tracks, darunter der brandneue Song "Avalon Girls". Die DVD beinhaltet die Dokumentation "I Got The Blues In Austin", in welcher auch sein Bruder Mick Jagger einen kurzen Auftritt hat.
Chris hat aus seinen Aufnahmen der letzten 20 Jahre die besten Songs herausgepickt: Rocknummern, Duette mit Sam Brown und Mick Jagger und virtuoses Gitarrenspiel von David Gilmour, Ed Deane und Kit Morgan.
Chris Jagger – live
30.09. Festung Mark – Magdeburg (Nashville Days – "Just like Cash")
26.10. Gaststätte Zum Pitt – Bocholt
27.10. Verdener Jazz und Blues Tage – Verden
28.10. Stones Fan Museum – Lüchow (Wendland)
29.10. wo anders – Menden
Chris Jaggers Karriere erstreckt sich über viele künstlerische Bereiche – von Modedesign über Theater, bis hin zum Journalismus. Während der 1970er wurden seine ersten Alben für David Geffen von Asylum in Los Angeles aufgenommen und er tourte durch die USA und Großbritannien.
In den späten 80ern fand er nach einer langen Pause zum Songwriting zurück und leistete seinen Beitrag zu zwei umjubelten Alben der Stones: "Dirty Work" und später "Steel Wheels".
Dann entschloss sich Chris, sich auf sein eigenes Material zu konzentrieren. Das Ergebnis war das von Kritikern frenetisch gefeierte Album "Atcha!" 1994, ein Mix aus Cajun Style und Chris' individueller Songwriting-Handschrift. Mitwirkende waren David Gilmour (Pink Floyd) und Dave Stewart (Eurythmics) auf "Lhasa Town" und Leo Sayer. Es folgten vier weitere Alben, darunter "The Ridge" aus 2009 – ein Soloalbum mit Danny Thompson am Kontrabass und John Etheridge an der Gitarre – und Concertina Jack 2013.
TITELLISTE
Law Against It / Avalon Girls / On The Road / It's Amazing What People Throw Away [feat. David Gilmour] / Lights of the City / Concertina Jack [feat. Mick Jagger] / Got Me (Where You Want Me) [feat. Sam Brown] / Wintertime Blues / Channel Fever / The DJ Blues [feat. Mick Jagger] / Ain't Gonna Be Your Fool / Junkman [feat. David Gilmour]  / A Single Spark / He's In A Meeting / Funky Man / Fire
Nachdem Micheal Eavis Chris' Band "The Rocking Kronies" gesehen hatte, bat er ihn auf der Avalon Bühne des Glastonbury Festivals aufzutreten. Chris dachte sich: "Ok… Vielleicht sollte ich speziell dafür einen Song schreiben. Und weil ich schon über 20 Jahre hier in der Gegend lebe, hatte ich die Idee, es den Ladies zu widmen, die diesen Ort besonders machen. Wann auch immer wir in der Stadt spielen, stehen die Mädels auf und tanzen. Das liebe ich. Es gibt da kein Getue, sie machen es einfach. Und da ist mir die simple Textzeile eingefallen: "When you play your music, they like to dance". Ich habe mich mit Gitarrist Kit Morgan zusammengesetzt und wir haben eine erste Version rausgehauen. Dann sind wir mit mobilem Aufnahmeequipment mit Drummer Paul Atkinson in meine Scheune gegangen und haben dort den Song aufgenommen. Es hat total gerockt und wir wussten sofort: Das ist ein toller Track, mit dem man Spaß haben kann. Ich hoffe die Avalon Girls mögen ihn." Dieses neue Lied ist nun – zum ersten mal überhaupt – Teil von "All The Best".
Chris Jagger ist live mit den Kronies unterwegs und tourt außerdem regelmäßig mit seinem "Acoustic Roots" Trio durch Europa und Großbritannien. Dabei trat er bereits in Spanien, Deutschland, der Schweiz, Dänemark, Frankreich und Holland auf und ist gerade aus Australien und Neuseeland zurückgekommen. Wie sein andauerndes Output und seine Arbeit auf Tour zeigen, ist Chris Jagger ein vielseitiges, kreatives Talent.
Auf "All The Best" präsentiert er eine handverlesene Auswahl seiner besten Arbeiten.
F.K.Ü. – "1981" VÖ: 03.11.2017
Band: F.K.Ü.
Album: 1981
VÖ: 03.11.2017
Label: Despotz Records/Cargo
F.K.Ü. (Freddy Krueger's Ünderwear) ist eine schwedische Thrash Metal Band aus Uppsala, gegründet 1987.
FLEURETY – "The White Death" VÖ: 27.10.2017
Band: FLEURETY
Album: The White Death
VÖ: 27.10.2017
Label: Peaceville/Edel
THE WHITE DEATH – The third studio album of dark and disturbing experimentalism from the Norwegian avantgarde-metal legends due for release on Peaceville

FLEURETY formed in Ytre Enebakk, Norway in 1991, and are known for their experimental & boundary-breaking approach to black metal. Peaceville Records are proud to welcome them to the label's roster for their upcoming opus.
FLEURETY – "Lament of the Optimist"

Their brand-new album, The White Death is Fleurety's third full-length studio release and is due for release on 27th October 2017, marking almost two decades since the release of Department of Apocalyptic Affairs, and shows the band returning to the style of the legendary debut Min Tid Skal Komme (1995); however, this time more experimental, sarcastic and concise. As a result, The White Death captures a darker and more disturbing version of Fleurety than ever before, embracing the strange and the abstract to create a wholly unconventional yet often poignant opus, both deep and raw in its expression.
Fleurety's line-up for The White Death features guitarist Alexander Nordgaren and drummer/vocalist Svein Egil "Zweizz" Hatlevik, now joined by bassist/vocalist Czral-Michael Eide (Virus, Aura Noir), vocalist Linn Nystadnes (Deathcrush, Oilskin), plus flutist Krizla (Tusmørke, Alwanzatar) and backing vocalist Filip Roshauw (The Switch). 'The White Death' was recorded by the band themselves and mixed by godfather of Norwegian noise music, Lasse Marhaug. Mastering was performed by longstanding partner of the band Greg Chandler (Esoteric) at Priory Studios, with artwork courtesy of Trine+Kim Design Studio (Ulver, Darkthrone).
The band has released two albums to date, plus a string of EPs, & has primarily existed as a duo featuring Alexander Nordgaren (formerly live guitarist for Norwegian legends, Mayhem) & Svein Egil "Zweizz" Hatlevik (Umoral, Strid, ex-Dødheimsgard) throughout their full history.
The White Death tracklisting
The White Death [07:47]
The Ballad of Copernicus [06:13]
Lament of the Optimist [03:48]
Trauma [03:51]
The Science of Normality [05:59]
Future Day [03:35]
Ambitions of the Dead [04:42]
Ritual of Light And Taxidermy [07:02]
The White Death will be released as a CD, LP and digitally (with all digital pre-orders receiving "Lament of the Optimist" as an instant download)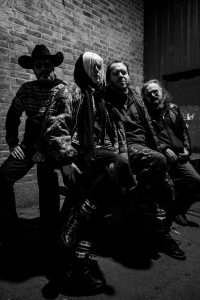 GODSTICKS – "Faced With Rage" VÖ: 13.10.2017
Band: GODSTICKS
Album: Faced With Rage
VÖ: 13.10.2017
Label: Kscope/Edel
DARRAN CHARLES BRINGS GODSTICKS' FEARLESS ENERGY AND INDUSTRIAL PROGRESSIVE SOUND TO KSCOPE
THE PINEAPPLE THIEF with Gavin Harrison
Tour – September 2017
Support: GODSTICKS
6th – DE Dresden, Alter Schlachtof
7th – PL Warsaw, Progesja Music Zone
8th – PL Krakow, Kwadrat Music Club
9th – Czech Republic Brno – Melodka
10th – DE Munich, Backstage Halle
11th – CH Zurich, Dynamo
12th – DE Stuttgart, Universum
13th – DE Cologne, Luxor
14th – NL Zoetermeer, De Boerderij
16th – UK London, ULU
17th – UK Bristol, Bierkeller
Fresh from their European tour with The Pineapple Thief at the start of 2017, Godsticks entered the studio to finish work on their new studio album –  Faced With Rage.
The Cardiff based 4 piece, having already been hailed by the UK's Metal Hammer magazine as "one of the UK's most idiosyncratic rock bands", with their new album have delivered on their promise to be just as heavy as their self-released 2015 album Emergence but this time with a darker feel and more industrial sound.
Godsticks – Faced with Rage (album trailer)

''The aggressive feel and sound from Emergence remains intact but we think that we've probably created our most progressive album to date, albeit unintentionally!" says singer and guitarist Darran Charles. "We wanted our previous album Emergence to be an onslaught of aggressive heavy guitars and vocals from start to finish because we felt we needed to make a strong statement about the direction we were heading in musically" reminisces Charles, "but 'Faced with Rage' features a lot more light and shade, and I think we've been more creative when trying to shape the dark and aggressive feel we wanted".
A variety of synth sounds have found their way into the longer song formats (brevity had been the Godsticks calling card up until this point) but as always guitar and Charles' vocals are still at the forefront of the band's sound.
Lyrically, Faced With Rage, explores the theme of people dealing with emotional conflict in different scenarios, and who have a powerful desire to change their behaviour or situation. It features for the first time a four-piece line up with new drummer Tom Price and guitarist Gavin Bushell who bring a more aggressive playing style to back up Darran Charles' (who also performed on The Pineapple Thief's 2016 hit album Your Wilderness and is part of their live touring band) unique vocal sound and Dan Nelson's driving bass. Drums and vocals were recorded at the world-renowned Monnow Valley Studio in Wales (Led Zeppelin, Black Sabbath, Feeder, Rush and Manic Street Preachers) and the album was produced by James Loughrey (Skindred, Manic Street Preachers, Def Leppard).
 
Godsticks are:
Darran Charles – Vocals, Guitars, Keys, Synths
Dan Nelson – Bass
Gavin Bushell – Guitars, Synths
Tom Price – Drums
 
Faced With Rage tracklist
Guilt [04:31]
Hard to Face [06:10]
Open your Eyes [05:04]
We are Leaving [06:49]
Angry Concern [06:34]
Avenge [03:56]
Revere [04:24]
Unforgivable [05:56]
Everdrive [08:02]
Fame and Silence [05:03]
GRAHAM BONNET BAND – "Live… Here Comes the Night" VÖ: 07.07.2017
Band: GRAHAM BONNET BAND
Album: Live… Here Comes the Night – CD/DVD + BluRay
VÖ: 07.07.2017
Label: Frontiers Music/Soulfood
GUN – "Favourite Pleasures" VÖ: 15.09.2017
Band: GUN
Album: Favourite Pleasures
VÖ: 15.09.2017
Label: Caroline International/Universal