Band: THE DIRTY KNOBS
Album: Wreckless Abandon
VÖ: 20.11.2020
Label: BMG Rights Management/Warner
MIKE CAMPBELL`s The Dirty Knobs (Tom Petty And The Heartbreakers, Fleetwood Mac)
Mit "Wreckless Abandon" veröffentlicht der gefeierte Gitarrist und Songwriter Mike Campbell gemeinsam mit seiner Band The Dirty Knobs am 20.11.2020 sein ungeduldig erwartetes Debütalbum via BMG.
Das neue ur-komische THE DIRTY KNOBS Video (mit Jeff Garlin und Danny Trejo) bei You Tube ansehen.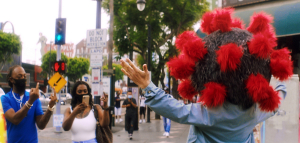 Campbell: "'Fuck That Guy' is a simple song that could really be about anyone you know. The video is a bizarre and darkly humorous take on 2020. It's been a hard year. It helps to just laugh. We shot the video in September, just last month. Sometimes life ends up imitating art in almost unimaginable ways."
video_still_credit_gilbert_trejo
aktuelle Pressestimmen:
Frankfurter Allgemeine Zeitung: "Es ist so offensichtlich wie erfreulich, dass diesem unverändert durchschlagskräftigen Gitarristen, der sich mehr als vierzig Jahre lang mit der Sideman-Rolle begnügt hat, die Führung einer Band ohne weiteres liegt… Sogar das Singen erledigt Campbell mit gaumiger Stimmer tadellos, mal gequält wie Randy Newman, mal getragen wie Pete Droge – ein Mann, der sich, altersgemäß, noch genug traut, aber nicht zu viel zumutet."
Rocks 8.5/10: "…lassen den unnachahmlichen Petty-Spirit in jeder flüssigen Note aufleben."
Rolling Stone: "Alles herrlich traditionsbewusst gespielt natürlich."
HiFi Stars: "…für Fans von Petty und geradlinigem, amerikanischen Rock genau passend."
Gitarre & Bass: "Mike Campbell macht einen guten Frontmann-Job und zeigt sich als stilvoller Gitarrist."
Hardline 9/10
eclipsed: "Alle Songs besitzen Biss und Campbells bluesige Gitarre besticht permanent."
Freie Presse: "Wreckless Abandon" ist eine gelungene Hommage an den verstorbenen Freund."
Ostsee-Zeitung 4/5: "Diese Form des Rocks findet seine eigenen Wege, mit seinen gewieften musikalischen Mitstreitern hat Mike Campbell zu einem neuen musikalischen Leben gefunden – trotzdem schwebt über allem der Geist von Tom Petty."